Renting to Refugees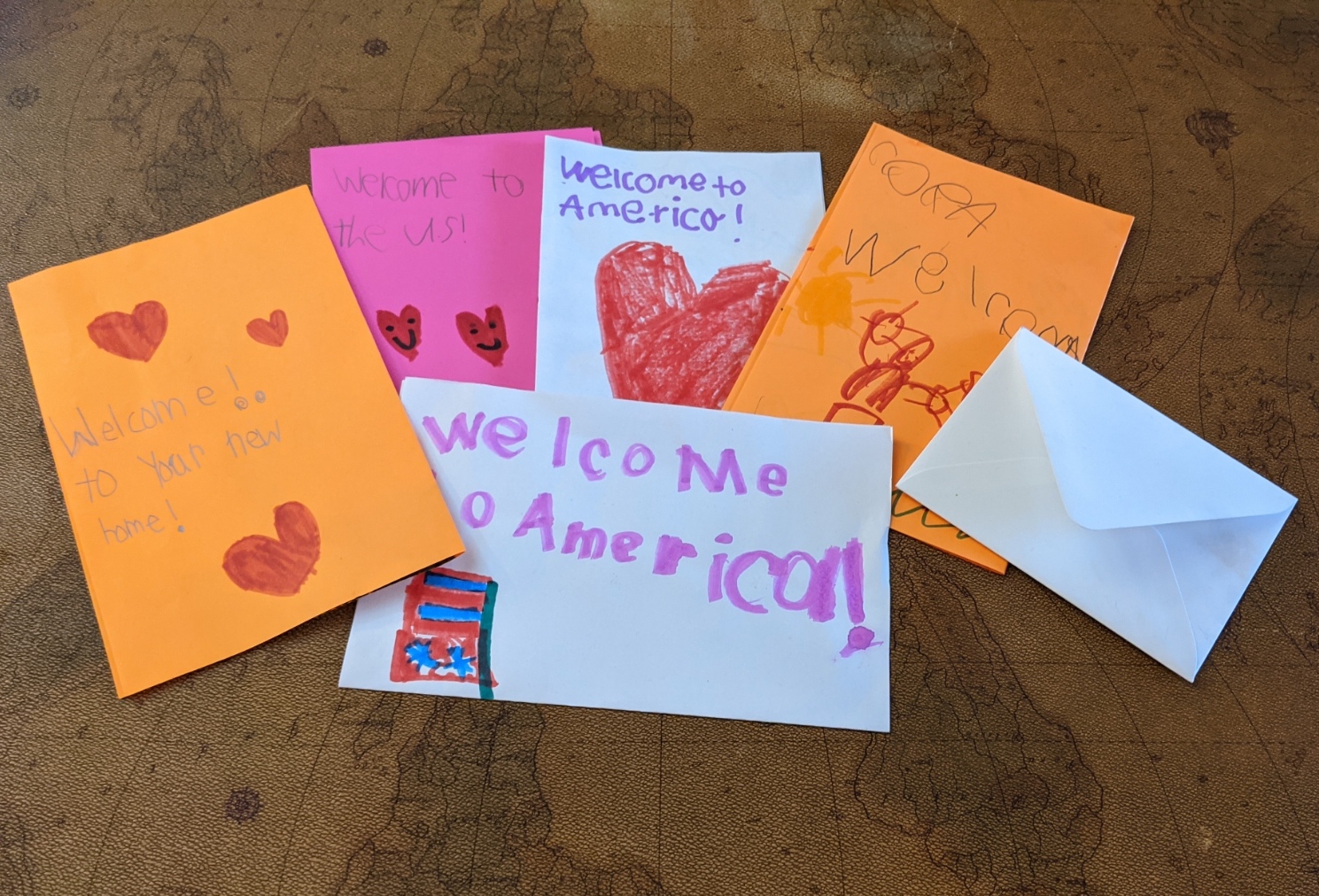 The Renting to Refugees in Falls Church initiative is designed to support partial payment of rental housing for five refugee families in the City of Falls Church, to support those families' transitions to life in the United States, welcome them to our community, and – potentially – develop a model that inspires other communities to do the same.
Welcoming Falls Church invites the community to think globally, engage locally, and say "yes in my backyard" to refugee resettlement.
Community Discussions Regarding Renting to Refugees
This initiative is long in the making. Discussions kicked off publicly with a Roundtable Discussion on Renting to Refugees in Falls Church on Tuesday, March 23, 2022, at the Mary Riley Styles Public Library. Twenty representatives of resettlement agencies and key City of Falls Church stakeholders came together to learn about the process of refugee resettlement.
We have benefited from the input of many with deep expertise in resettlement: hearing for example from Holly Herrera, Section Chief in the State Department's Bureau of Population, Refugees, and Migration/Domestic Resettlement; colleagues from resettlement agencies – the Ethiopian Community Development Council, and Lutheran Social Services, and Catholic Charities-Diocese of Arlington Migration & Refugee Services; organizations with expertise in the field such as the Association of Afghan Medical Professionals of America (AMPAA) and NoVA RAFT (Resettling Afghan Families Together); and members of the community in small groups, about what it will take to make refugee resettlement work in Falls Church.
We achieved a major milestone in development of Renting to Refugees as a public-private initiative in May 2022, when the City of Falls Church City Council included an allocation of $50,000 to Falls Church Welcoming Refugees Fund in its FY2023 budget. Many thanks to the City, for seeding this fund and lending support to the initiative, making Falls Church a community that welcomes refugees, and your ongoing support!
We continued our discussions in the community, saw our Support Teams go through processes of background checking and training, and waiting months to welcome our first family because of a slowdown in resettlement in late 2022 but got going settling families in January 2023. Over 70 people have stepped forward to join a Support Team or otherwise lend volunteer support–making this a real community-wide effort.
We continue to hold Open Meetings monthly on the fourth Monday of each month, 6:30-7:45pm, at the Mary Riley Styles Public Library, 120 North Virginia Avenue, in Falls Church(except for July and December). These meetings are a great time to learn more and ask questions - no commitment, no need to RSVP, just show up.
Questions About the Program?
See below for some questions that have been posed about this initiative - and our responses. We look forward to discussions with key stakeholders that will help us flesh out further details regarding how this will work - and to addressing the key issue of housing costs, to enable us to welcome refugee families to Falls Church.
Please email us to let us know if you have questions that are not addressed below – or to get involved!
Renting to Refugees in Falls Church: Background
What is the overall motivation and purpose of the program? To build a community of neighbors, by encouraging Falls Church to welcome refugees. It's our hope that this program provides the families it supports a good start in our country, mobilizes the community around the shared purpose, contributes to the diversity of the community, and marks the Little City with a distinctive "welcoming" culture that leads to other positive developments in the community.
What are the specific goals of the program? To welcome five refugee families to Falls Church in affordable housing, to support those families' transitions to life in the United States, welcome them to our community, and – potentially – develop a model that inspires other communities to do the same.
Who is advocating for this program, and why? Welcoming Falls Church is encouraging the entire community to mobilize to support and advocate for this program. In a complicated, challenging world, Renting to Refugees could be a practical, tangible, compassionate response – at modest cost – that serves our neighbors and strengthens our community.
Structure
How many refugee families would be supported? Our goal is to welcome five families in a pilot phase – and then perhaps more, if volunteer support is available and if stakeholders are supportive.
What is the role of Falls Church City in this program? The Falls Church City Council has supported the Renting to Refugees program with an allocation of $50K towards rent vouchers in its FY2022-23 budget. City staff has supported the initiative by providing information on its City Committed Affordable Unit program, to support the design of a Falls Church Welcoming Refugees Fund rent voucher program, and with introductions to landlords.
What is the role of private donors in this program? This is a public-private program, and we have appreciated private donors' charitable contributions to the Falls Church Welcoming Refugees Fund. We have benefitted from many contributions including from faith communities with a heart for this work. In addition, in September 2022, John and Emily, neighbors in Falls Church, helped us towards fully funding our first five families with a gift of $25K, and in August 2023 we had the great news that another anonymous donor made a significant gift to extend partial rent support for the first three families out to a full second year of their stay in their apartments.
What would be the subsidy per family, and for how long? Subsidies are from $500 up to a maximum of $1750 per family per month, starting at a higher level then decreasing over time (to match what we hope to see as progress for the family towards self-sufficiency), through two full years in the apartment where the family is settled.
What benefits do federal government and refugee resettlement agency programs already offer to cover housing costs? How would a Renting to Refugees program extend housing cost support? Resettlement agencies often cover three to six months of rent through initial resettlement support (a one-time federal stipend of $1,225 per person, to cover personal expenses, is largely intended to cover rent) as well as additional federal government funds ("Matching Grant" programs). A Renting to Refugees program would extend beyond the initial three to six months of rent coverage, to two full years in the apartment where the family is settled. The Falls Church program would reduce the cost of rent to offer refugees a smoother on-ramp into the community and American society.
What would be the total cost to Falls Church City and private donors? This will flow from ongoing work on the design of Falls Church Welcoming Refugees Fund and its administration, in consultation with the Council, City staff, and private donors to the initiative. Based on the initial structure adopted in late 2022, costs will range from $18,000 to $22,000 per family, over a two-year period, per family.
Is there flexibility in the program parameters, and if so, what is the range of options? Yes, absolutely, there are lots of options, and we hope to make this program an inspiration to other communities so welcome input from stakeholders on how to refine its structure. Policymakers will consider many different aspects of the program, and we should anticipate that the program design will develop based on discussions in the community that are underway.
Are there examples around the country of other programs like this? Yes, there are. The program that is most like this - that we know of so far - appears to be Salt Lake City's Housing Connect Refugee Employment Supportive Housing (RESH) program. Other cities are taking different approaches. Columbus, Ohio has launched the Afghan Neighbors Rental Assistance Fund, setting aside $50,000 to cover rent costs for Afghan families who have fallen behind on rent. Pittsburgh was the original inspiration for us to think about this issue. Pittsburgh's Renting to Refugees in Allegheny County program is useful as a point of reference and is very well-documented in a webinar produced by Welcoming America, and Pittsburgh provides us lessons learned especially with regards to its Building a Welcoming Landlord Network campaign – which has attracted dozens of landlord participants. One note, though – because housing costs are so high in Falls Church, our program would be innovative in that it would involve "tenant-based rental assistance" (e.g. housing vouchers) as in Salt Lake City's RESH program, alongside development of a "welcoming landlord network" along the lines of the Pittsburgh model.
Who will administer the program? The City has seeded a Falls Church Welcoming Refugees Fund, which will be administered by Welcoming Falls Church, with additional funds coming from private donors. Welcoming Falls Church is engaging landlords to develop a "Welcoming Landlord Network" (in consultation and with the support and encouragement of the City, its elected and appointed leaders, and its staff).
What are the long-term objectives of this initiative? The initiative is focused first and foremost on making refugee resettlement work in Falls Church. Working with stakeholders in the community including the City of Falls Church Human Services staff, the Falls Church City Public Schools, the Falls Church Education Foundation, Temple Rodef Shalom – and many others, this initiative is designed to bring the community together around common purpose. We are partnering actively in the community to inspire civic organizations, faith-based organizations, Girl Scouts, Cub/Boy Scouts, and others, to make Falls Church more welcoming for the families that participate in this initiative. Long-term? We believe that this will make Falls Church more welcoming for us all–and we also hope to inspire other communities to adapt this mix of policies, tenant-based rent voucher support alongside building a welcoming landlord network, to their communities.