Live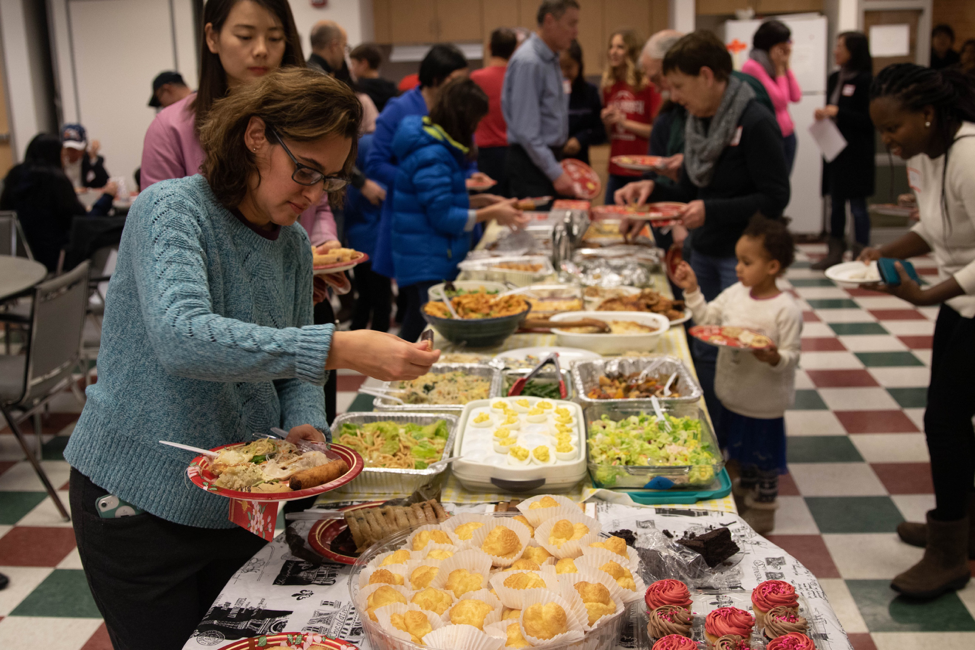 We're building a community of neighbors. This involves noticing our shared desire to build community, encouraging it, and creating ways that we can come together for shared experiences. Living better together is the most ambitious and longest-term aspect of our vision, but we've learned that there are a lot of people that share this as a value.
We love the idea of bringing people together for dinners. One way we've done this is through Community International Dinners at the Falls Church Community Center. Friends and families are welcome. We've developed cultural exchange themes at two very successful dinners in November 2019 and January 2020 and plan more of these events. This is very family-friendly, with kids enjoying the open gym or activities in the teen center, and adults enjoying some intentional conversation after dinner. In January, we recognized and explored some the history of residents of the area who came from Vietnam, enjoyed some great dinner options (see photo) with lots of Lunar New Year themed dishes, and even saw an amazing Vietnamese Lunar New Year Dragon Dance up close! We'll have more of these dinners – and we hope you can join us.
In addition, this spring we will be organizing smaller gatherings, "Listen First" small group conversations over dinner, with facilitated conversations focusing on immigration, ethnicity, and race. These small group conversations will be part of the National Week of Conversation April 17-25, 2020. Our Conversation and Community Service Week coincides with this week. Please let us know if you'd like to join (or host!) one of these smaller dinner events.
We've also found a great venue for outdoor events – the City of Falls Church's Mr. Brown's Downtown Park. We are very grateful to the Little City Creamery, which offered free ice cream for the 175 people who joined our first annual Welcome Week Kickoff & Ice Cream Party held there in September 2019. Coming up: SAVE THE DATE for a fun, springtime Fiesta event there on Thursday evening, April 23, 2020.
Most ambitiously, think about what you can uniquely do to weave the social fabric of our community. What is your neighborhood like? Who are your friends? Who are your acquaintances? Whatever your situation, bring people together. Hold a block party that would not happen otherwise. Hold a Play Street (this is a great City of Falls Church program). And whatever you do, make a special effort to make newcomers (especially international friends) feel welcome, to overcome one of the principal divisions in our society. It is more important than ever to express a welcoming spirit to people who may not feel as welcome in the United States as we'd like. Whatever your race, creed, ethnic background, or socioeconomic status, join us to express hospitality towards immigrants and refugees, to create opportunity for us all.
We hope you join us in Welcoming Falls Church. Embrace a welcoming spirit, sign up for one or more activities, and if you have not already done so provide us your information in the form here, so that we can be in touch with you proactively about future activities. We look forward to engaging with area residents, civic and business leaders, our schools and many others, to build a community of neighbors.