Live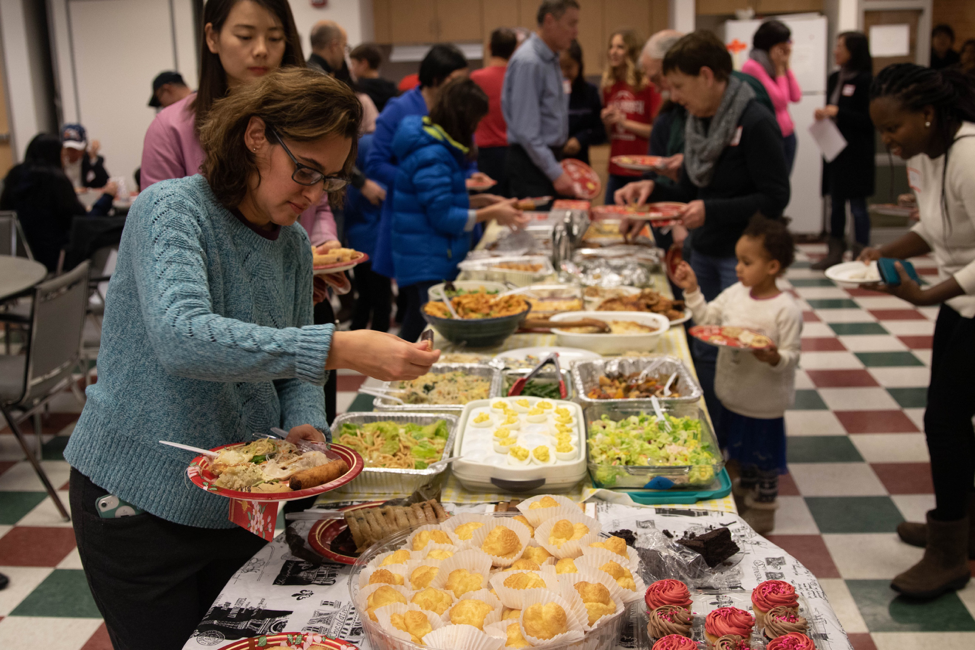 We're building a community of neighbors. This involves noticing our shared desire to build community, encouraging it, and creating ways that we can come together for shared experiences. Living better together is the most ambitious and longest-term aspect of our vision, but we've learned that there are a lot of people that share this as a value.
Coming Together, Even at the Time of COVID-19
In these unprecedented times of physical social distancing, it is more urgent than ever to come together-virtually if not in person. Now is a time to listen to and support each other and to bridge divides. With a series of virtual Listen First, Weaving Community dialogues, Welcoming Falls Church aims to build and strengthen connections within our community, so that we can grow together even at a time of crisis.
These dialogues, led by a trained facilitator, bring together groups of six for conversations on Zoom. Our original vision was that these would be groups of 10-12 over dinner – and we held two very successful gatherings before the crisis hit – but we're adapting for the current environment and held four online dialogues during May and June. The goal of the dialogues is the same online as in person: to connect people, create relationships, and consider our hopes and potential positive outcomes for the future, for the community.
Discussions start with personal stories and experiences, to foster trust and mutual understanding among participants with different experiences, identities, and beliefs. The purpose is NOT to persuade others, solve each other's problems, or find points of agreement, but to share, listen, try to understand, and – together – to explore how we can come together, as we move through this experience.
These dialogues are held locally under broad national initiatives, the Listen First Project and Weaving Community During Crisis. These successful initiatives encourage people to join conversations about difficult issues all across America, and we are glad to bring these conversations to Falls Church – especially now. Interested in joining a dialogue? Email Linda Doornbosch, who will facilitate the conversations, by clicking here.
Beyond COVID-19
We love the idea of bringing people together for dinners, and we will get back to this as soon as possible. We identified two successful approaches to community gatherings in Winter 2020: two Listen First, Weaving Community dinners brought groups of 10-12 together for facilitated conversations like those that we are continuing virtually; and we also held two Community International Dinners at the Falls Church Community Center—much larger events that brought together groups of 80-100 and at which friends and families are welcome.
We have fond memories of kids enjoying the open gym and activities in the teen center, and adults enjoying some intentional conversation after dinner at those Community Dinners. In January, we recognized and explored some of the history of residents of the area who came from Vietnam, enjoyed some great dinner options (see photo) with lots of Lunar New Year themed dishes, and even saw an amazing Vietnamese Lunar New Year Dragon Dance up close! We'll have more of these dinners some day – and we hope you can join us.
We've also found a great venue for outdoor events – the City of Falls Church's Mr. Brown's Downtown Park. We are very grateful to the Little City Creamery, which offered free ice cream for the 175 people who joined our first annual Welcome Week Kickoff & Ice Cream Party held there in September 2019. We look forward to getting back to Mr. Brown's Park for more outdoor activities. We were very disappointed that our plans for a fun, springtime Fiesta event – to be co-sponsored with CASA Falls Church – there on Thursday, April 23, 2020, had to be cancelled, but we look forward to future events there, and with our CASA friends.
Most ambitiously, think about what you can uniquely do to weave the social fabric of our community. What is your neighborhood like? Who are your friends? Who are your acquaintances? Whatever your situation, bring people together. Hold a block party that would not happen otherwise. Hold a Play Street (this is a great City of Falls Church program). And whatever you do, make a special effort to make newcomers (especially international friends) feel welcome, to overcome one of the principal divisions in our society. It is more important than ever to express a welcoming spirit to people who may not feel as welcome in the United States as we'd like. Whatever your race, creed, ethnic background, or socioeconomic status, join us to express hospitality towards immigrants and refugees, to create opportunity for us all.
We hope you join us in Welcoming Falls Church. Embrace a welcoming spirit, sign up for one or more activities, and if you have not already done so provide us your information in the form here, so that we can be in touch with you proactively about future activities. We look forward to engaging with area residents, civic and business leaders, our schools and many others, to build a community of neighbors.